Hanging Acoustic Absorbers 1200x600x25
Large Space Acoustic Projects Sound Absorption Problems Got You Down? We Have the Solution
Our hanging acoustic panels are similar to fabric wrapped fiberglass acoustic paenls. Their basic structure is the same. They are made of fiberglass with frames, which can be made of wood, polyester, or aluminum alloy, and wrapped with fabric on the surface. The fabrics on the surface are available in different types and a wide range of colors and patterns.( Click here for color chart.)
The most significant difference is that they are used as ceilings and they are hanging on the ceilings, which make a huge difference in their sound absorbing properties. Their sound absorbing coefficient increase largely, even higher than 1.0.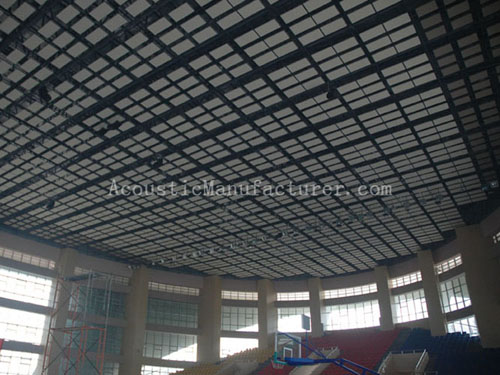 Characteristics: With high sound absorption coefficient in a wide range of frequencies, they have excellent acoustic performance in both mid and high frequency sound. Besides, they are decorative, fireproof, flexible, dust free, easy to install, and so on.


Specifications:
* Dimensions:600*600,600*1200mm
* Thickness:25/50/75/100mm
* Pattern:(Click here for color card)
* Fiberglass Density:48,64,16,24,32,80,96kg/m3


Application: They are widely used in large space projects that need acoustic solution as ceilings, such as dancing halls, karaoke rooms, hotels, conference rooms, bowling alleys, gymnasiums, theaters, rehearsal halls and so on.