Looking for perforated acoustic panels?
Wooden Perforated Acoustic Panels 1200x600x15
What Would You Rather Do: Buy Acoustic Panels Locally and Spend a Fortune or Import From Us and Save as Much as You Could
Wooden perforated acoustic panels is one of the most popular acoustic panels in the world. You should be able to find them in lots of acoustic projects. The problem is, where could buy them in superior quality and competitive price? Try us.
We use MDF as the substrate, which is laminated with melamine or natural wood veneer on the front surface and then perforated with a series of round holes both on the front surface and the back surface. The diameter of the holes on the front surface can be the same or different from that on the back surface. After the perforating process, a layer of black acoustic fleece is pasted on the back surface of the substrate.
The pattern of our wooden perforated acoustic panels is determined by the diameter of the holes and the width of the center-to-center distance. For example, pattern 16/16/6 means the diameter of the holes is 6mm and the center-to-center distance is 16mm.
The pictures below are several patterns of our wooden perforated acoustic panels. ( For projects pictures, please click here.)
Choose an image to begin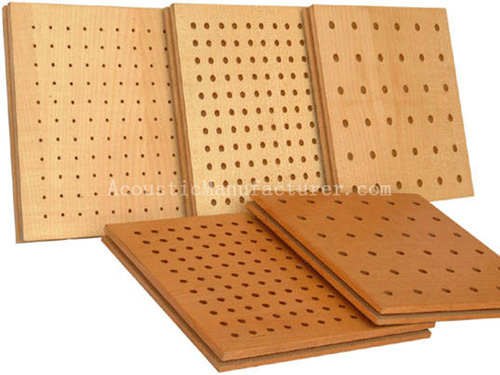 Features & Specs:
1. Substrate
* Material:MDF
* Density:About 750kg/m3
* Thickness: 12/15/18mm (can be customized upon request)
2. Acoustic fleece, also known as "black fleece", pasted on the back surface of acoustic panels, is also sound-absorbing and fireproofing. Three kinds of acoustic fleece is available:
* Standard
* Ahlstrom
* Soundtex
3. Surface
* Melamine( Click here for color card)
* Real wood verneer( Click here for color card)
4. Specifications
* Dimensions:600*600,600*1200,1200*1200,1200*2400mm
* Thickness:12/15/18mm
* Pattern:16/16/6,16/16/8,32/32/6,32/32/8,etc.
* Fireproof:Class B1
* Eco-friendly:Class E1